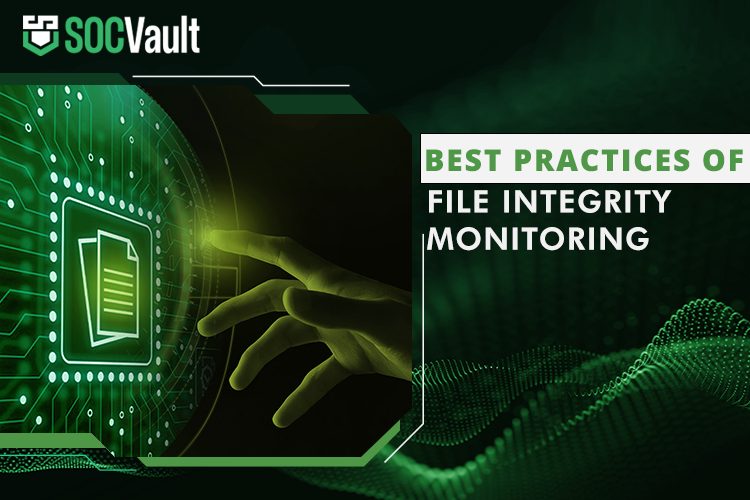 Best Practices Of File Integrity Monitoring
Businesses worldwide mainly focus on storing their critical in files infrastructures as it's simple and easy at the same time. Modern-day companies focus on maintaining records in files. Operating systems, application files, and other critical data get stored in files. However, the protection of such files is compulsory. If filled with malware, such files can cause havoc for business owners. Therefore, the adoption of file integrity monitoring services is a major requirement, and learning the best practices of file integrity monitoring is essential as well.
What's The Role Of File Integrity Monitoring In A Business?
File integrity monitoring is a feature of cybersecurity services and is a remarkable security solution. Having corrupted files in systems is the worst kind of feeling. Assets of business owners are at massive risk in such cases. Thus, before learning the best practices of file integrity monitoring, we must know the role of file integrity monitoring. Following are the roles of file integrity monitoring:
This feature can detect any alteration in the files. Malicious activities of hackers are detectable through this feature. As soon as an alteration occurs in a file, the file integrity monitoring feature detects it.

It can check for constant alterations as it can capture all changes in a computer system.

File integrity monitoring notifies the user whenever a change occurs in the data or network systems.
Best Practices Of FIM (File Integrity Monitoring) Solutions
A quality application of this feature is a must to achieve the best results. After a successful implementation of the FIM security, the results produced are nothing short of amazing. Following are the best practices of file integrity monitoring:
1. Analyze The Files To Be Monitored
A complete list of files that require monitoring should be drafted as it will shorten the work process and the elapsed time. This practice proves to be quite handy as it separates clean files from potentially corrupted files through such an assessment.   
2. Integrate FIM With Other Technologies
This is one of the best practices of file integrity monitoring as it allows the users to integrate the features of file integrity monitoring into other technologies. A quality integration emerges once the SIEM and FIM security features blend up. Users get to experience threat detection like none other with such connections.
3. Categorize Your Assets Accordingly
Maintaining a proper list of top-priority assets and their monitoring is essential is necessary. This way, the FIM solution will perform in the most efficient manner as categorizing helps prioritize the assets that require complete protection. Therefore, a comprehensive listing of assets will ensure a quality FIM solution.
Keeping track of the above-mentioned points will provide any business with the best practices of file integrity monitoring.
We offer the best SOC as a service and website hosting security services worldwide including case management, security analytics, intrusion detection, log data analysis, vulnerability detection, configuration assessment, security information & event management, and much more. Cyber-attacks call for immediate actions, and immediate response actions for any data breach are possible with SOCVault's prolific SOC as a service solution. Experience a one-click SOC as a Service solution with our multi-featured dashboard. Get your dashboard services available after 24 hours of subscribing, a service that no other cybersecurity company offers. Our clients stay relaxed with 24/7 monitoring services while we protect their critical assets. SOCVault is offering a "FREE 30-DAYS CYBERSECURITY SUBSCRIPTION" if you want to secure your business, then contact us for registration.