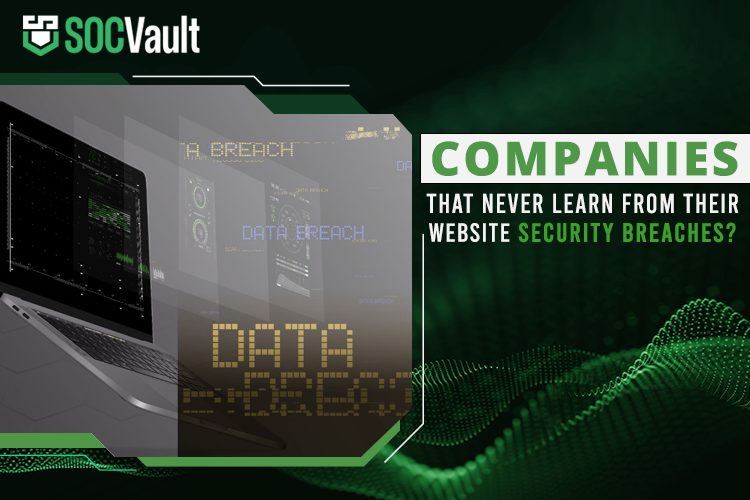 Companies That Never Learn From Their Website Security Breaches?
With the evolution of technology, the integration of devastative cyber crimes has also escalated. Statistics demonstrate that 30k+ businesses receive website security data breaches daily.
These voluminous hacking attacks on websites put businesses at risk. It not only steals information regarding a company or its employee but also exerts a stain of defame. After this threat, your revenue streams stop suddenly due to the damaged reputation of your company in front of the eyes of customers.
Not aware of major companies that have faced website security breaches and severe results? Check out this guide to let your knowledge enhanced.
Uber Website Security Breach
On September 2022, Uber came across a data breach activity on a slack message by a hacker. As a result, Uber has to cut off all the internal messaging campaigns within its strong network of software engineers to explore the real matter involved in its hacking.
Further, Uber immediately connected with Law enforcement organizations to catch the responsible for this hacking attack.
Now, they have made their security functions efficient enough to eliminate the risk of hacking attacks. These precautions have been working actively, and the company's functions are smooth now.
Alibaba Website Security Breach
This is the biggest eCommerce market in China hit by a cyber attack. It impacted approximately 1.1 billion data of potential users. Happening for 8 months; hackers had gotten the IDs of users, including their phone numbers, passwords, and comments.
Based in China, the public was not aware of this huge cybercrime. However, to tackle this severe attempt, Alibaba quickly informed the police to eliminate further harmful consequences of data breaches.
All this happened due to the poor website security of Alibaba. It has implemented extraordinary security measures to secure its website from cyber threats.
Crypto.com Website Security Breach
No doubt, crypto.com is supported by a blockchain model, but it didn't remain secure from the sword of hacking magic. Through this illegal activity, 483 wallets people infected. Billions of cryptocurrencies, such as Bitcoin and Ethereum, were stolen.
After getting to know, crypto.com admitted its fault regarding security issues. Then, they quickly reimbursed the data of users.
Next, Crypto.com also audited its entire system thoroughly. Then, ensure the privacy of its users with great security practices.
So, it is advised to you as a company you must understand the value of your users and make sure to encrypt their data perfectly.
LinkedIn Website Security Breach
One of the most powerful platforms to grow professionalism among businesses and employees, LinkedIn has also faced a sight of a terrible data breach at the start of 2021. From this, seven hundred million+ profiles of people's data were put in front of the public.
This data breach included emails, phone numbers, geo-location, genders, and other sensitive information on the dark web forum.
The Linkedin administration denied this data breach. However, it was in front of all people. Using powerful security techniques, you have to secure your company to eliminate data breaches, as LinkedIn faced.
Website security is an indispensable practice for every business owner. It assists in generating and maintaining revenue streams developed by your business website.
In this post, you have known the top companies that faced data breaches. Undoubtedly, every business is at risk of falling prey to hackers' attacks now.
Get connected with a company that endeavors top-notch website security services to keep your website secure. Their tech leads know every fact that plays a vital role in securing your site.
Moreover, utilize great vulnerability scanners, malware detection software, and an efficient hosting plan for your business site. Following these tricks can secure your company's site from any cyber threat.
We offer the best SOC as a service  and website security service worldwide including case management, security analytics, intrusion detection, log data analysis, vulnerability detection, configuration assessment, security information & event management, and much more. Cyber-attacks call for immediate actions, and immediate response actions for any data breach are possible with SOCVault's prolific SOC as a service solution. Experience a one-click SOC as a Service solution with our multi-featured dashboard. Get your dashboard services available after 24 hours of subscribing, a service that no other cybersecurity company offers. Our clients stay relaxed with 24/7 monitoring services while we protect their critical assets. SOCVault is offering a "FREE 30-DAYS CYBERSECURITY SUBSCRIPTION" if you want to secure your business, then contact us for registration. For more cybersecurity updates, follow us on Facebook.