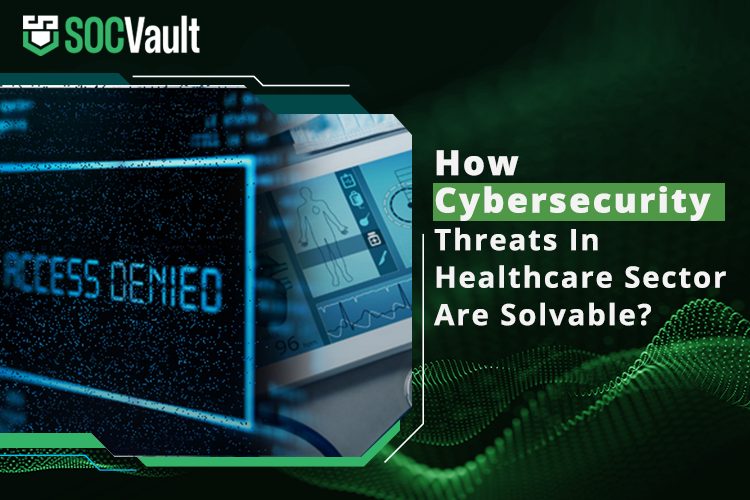 Cybersecurity Threats In Healthcare are Solvable
We live in an era with numerous healthcare advancements with each passing day. These advancements occur on a regular basis as the dire need of the modern world is to protect lives and make things more convenient for us humans. With that being said, while there are forces performing day in and day out for the betterment of each field, there are also threat actors in different forms. This is the reason we are discussing the cybersecurity threats in healthcare.
Major healthcare business owners do not believe that their organization can also come under the wrath of cybercriminals. However, all healthcare businesses must stay aware of cyber-attacks as this sector is one of the core targets of hackers these days. Cybersecurity threats in healthcare can reach the sky if not dealt with properly by the staff members and other stakeholders of the organizations.

Before looking at the measures to solve the problems of cybersecurity threats in the healthcare sector, let's discuss the threats involved in it. 
Following are these threats:
These attacks are backed by the motive of earning monetary funds from the victim. The amount that includes being compromised is in millions at times. These cyberattacks occur very often and by highly trained hackers willing to destroy the intellectual property of the business owners. Such attacks involve hacking that gives full access to the hacker, who then has the ability to cease the actual owner from accessing the data so breached.
The only way such cybersecurity threats in healthcare are solvable is through a perfect implication of all the cybersecurity precautions. Imagine losing critical patient data or gaining information about each staff member and the patients assigned to them. Such internal information can easily get revealed through such ransomware attacks.
Distributed Denial Of Service attack includes the ultimate trafficking of websites that could trigger network traffic jamming by multiple botnets. Through such an attack, the healthcare personnel can get disturbed as well as the patients. Patients trying to register through an online portal will have to wait hours just for a simple registration or appointment. However, luring away from this attack is achievable through quality cybersecurity. Once such quality cybersecurity features come into play, the cybersecurity threats in healthcare are solvable.
Following are the measures to correct any problem regarding the cybersecurity of an organization:
The vulnerable gaps of a cybersecurity system require prior testing before running different programs to secure the digital asset. Therefore, checking for vulnerability gaps is quite necessary. This saves a lot of future time and energy as investing in time and energy today will ease the pains of tomorrow. Thus, this step helps a lot in the fight against cybercriminals.
The concept of restoring and storing data must also be adopted while dealing with cybersecurity. Most business owners adopt offline storage techniques that can help them cater to the needs of modern-day SOC solutions. In addition, companies usually follow a 12 to 24-hour plan for their businesses to run efficiently. Thus, healthcare sectors are also required to do the same to minimize the cybersecurity threats in healthcare.
We offer the best SOC as a service  and website hosting security services worldwide including case management, security analytics, intrusion detection, log data analysis, vulnerability detection, configuration assessment, security information & event management, and much more. Cyber-attacks call for immediate actions, and immediate response actions for any data breach are possible with SOCVault's prolific SOC as a service solution. Experience a one-click SOC as a Service solution with our multi-featured dashboard. Get your dashboard services available after 24 hours of subscribing, a service that no other cybersecurity company offers. Our clients stay relaxed with 24/7 monitoring services while we protect their critical assets. SOCVault is offering a "FREE 30-DAYS CYBERSECURITY SUBSCRIPTION" if you want to secure your business, then contact us for registration or visit our Facebook page.