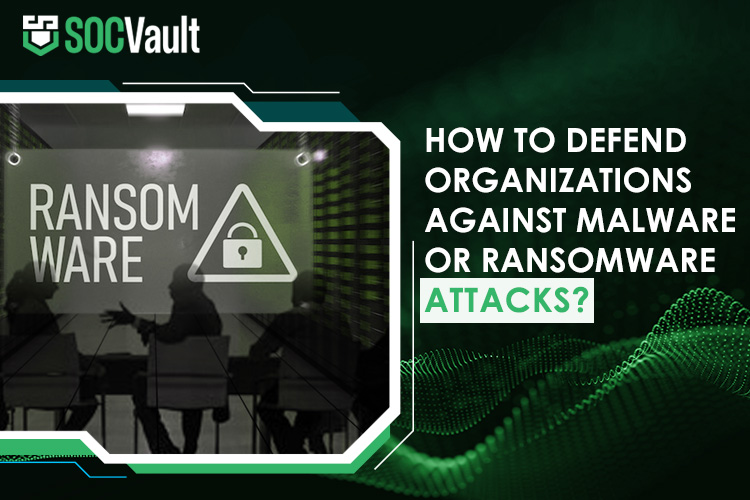 How To Defend Organizations Against Malware Or Ransomware Attacks?
With the innovative technologies to drive your computers efficiently, the risk of tech-savvy hackers has also escalated. They tend to damage your systems ultimately with leakage of your potential data.
This devastating situation has taken birth to a real hazard for every organization. Hackers incline to install malware into your system to grab the details of your business and customers.
Ransomware has become a leading part of the malware that cybercriminals seek to adopt. They steal data from your company in an unauthorized way and demand for millions of dollars to get its recovery.
Statistics demonstrate that businesses around the globe have faced 2.361 million ransomware attacks. As a result, several people have quit their online businesses due to these attacks.
It is a general trust that every small to new business is at risk through this notorious practice. Follow the top 7 steps to defend your organization against malware or Ransomware attack.
1. Educate Your Workforce
First, educating your staff is a crucial step to endorse. Your employee should be competent enough to spotlight if anything suspicious happens. They must quickly know how to get rid of a ransomware attack on time to avoid any destructive results in the future.
For this purpose, arrange cyber security workshops for your entire team. Always try to keep updated content about new cyber crimes and ways to overcome them to endeavor excellent guidance.
Plus, if you invite your user to attend your organized seminars or classes on cybercrime, it can exert fantastic results for protecting you against ransomware.
No doubt, business communication occurs through Email. It is sadly true that most ransomware infects your system through emails. Therefore, you have to pay special attention to your email security.
Cyber security experts advise businesses to put strict filters policy on receiving mail. This phenomenon has simple logic behind it. For example, fewer emails mean your risk of falling prey to ransomware is already less.
Further, you have to tell your employees not to open any email attachments and send them. Try to share files some different means.
Software, hardware, and application are the main components used by your organization. Hire a vigilant IT team with the stamina to keep a strict eye on your operating systems to ensure their updates.
It is preferable to put "auto-update" mode on your operating systems. For example, if you are running an anti-virus, turn on its "auto-update" option. It will promptly act on your system whenever it acquires new security features.
According to statistics, most ransomware attacks comes through the outdated system. Hence don't miss this step in any circumstances for your organization's safeguarding.
You have a Facebook account. For its privacy, you implement substantial restrictions to keep it safe from infiltrators. You must follow the actual practice to secure your business from striking cyber attacks by hackers.
If you have a business website, put special restrictions for controlling it. Confine local administrators for fixing security issues. When your system's access becomes limited, its defense power will automatically increase.
Additionally, restrain writing permissions to the distinct directories because ransomware also integrates through written files.
Protocols play a significant role in striving for business security against ransomware. Again, an IT team is the front-end player in combating hackers.
Maintaining protocols reduces the chances of being suffered by ransomware. Like if your website has not SSL certificate, buy it immediately.
Next, you have to ponder over the HTTPS of your business site to shield it and diminish the possibility of adding it to the Google blocklist.
Moreover, develop a list of protocols you want to push into your business, and don't neglect them.
6. IDS and Firewalls Integration
Cybercrimes can be abolished by adopting two main activities; firewalls and Intrusion Detection Systems (IDS).
Whether you wish to limit remote desktop protocols (RDP) or their management system, everything is possible with Firewall.
Then, IDS connection to your business also prevents malicious activities, such as ransomware to your business. It investigates that no malicious file is present on your business site by analyzing traffic and signatures.
Hence, IDS and firewalls are indispensable factors in your business needs at every level. You can also take expert advice from website hosting security providers to choose them.
Sometimes we commit a blunder that leads to becoming the target of ransomware attackers. At this time, the nerves of business owners become out of control. It is a harmful point for every organization, but a question arises what to do now?
To tackle this, do a backup of your entire data regularly. All your data keep on any online cloud services alongside offline storage. The reason is that cyber threats are consistently overhauling. Losing one place means we have its copy in another folder too.
In addition, with proper backup plans, lessening ransomware to your business is not challenging enough.
Organizations are at greater risk with the involvement of ransomware, a type of malware. Every business has the deprivation to control these attacks.
The reason is that ransomware can potentially ravage your business by snatching billions of dollars to retrieve all your insightful data regarding your finance and customers' details. In addition, the trust of your users comes to an end because their sensitive information has become damaged due to your poor security system. Ultimately, all these activities bring a closeness to your organization by bearing massive losses.
In this write-up, we have combined some steps for eliminating ransomware chances. By considering these above steps, any company can beat hackers and rank at the top of Google for generating revenue online.
If you are not sure whether to fulfill all the above steps or not, explore an identical business security provider. It comprises top-notch cybersecurity experts having years of experience. They know very well what to do in case your business is not secure and has been seized up by the attack of ransomware attackers.
We offer the best SOC as a service and website hosting security worldwide including case management, security analytics, intrusion detection, log data analysis, vulnerability detection, configuration assessment, security information & event management, and much more. Cyber-attacks call for immediate actions, and immediate response actions for any data breach are possible with SOCVault's prolific SOC as a service solution. Experience a one-click SOC as a Service solution with our multi-featured dashboard. Get your dashboard services available after 24 hours of subscribing, a service that no other cybersecurity company offers. Our clients stay relaxed with 24/7 monitoring services while we protect their critical assets. SOCVault is offering a "FREE 30-DAYS CYBERSECURITY SUBSCRIPTION" if you want to secure your business, then contact us for registration.