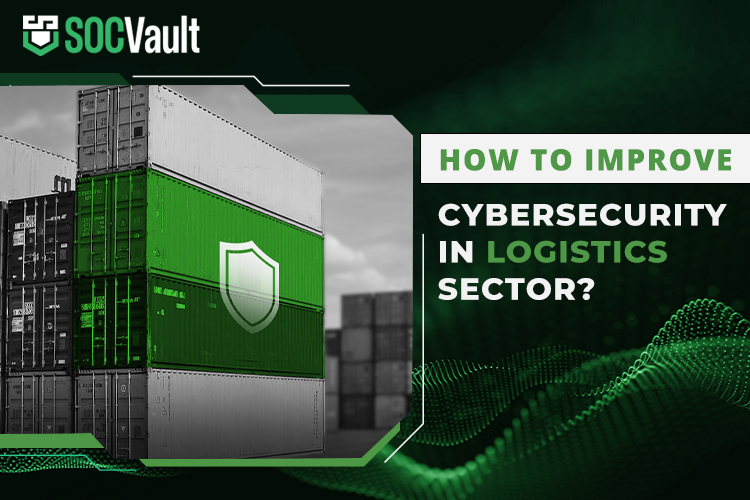 How To Improve Cybersecurity In Logistics Sector?
Cybersecurity is a thing unknown to major industrial sectors of the world. To this day, some people deny it and do not secure their critical assets. However, when businesses with such ignorant behavior towards cybersecurity and its features come across a data breach, they collapse. Such a collapse is unrepairable as there were no prior precautions. They end up losing sensitive data, and in order to recover it, they have to pay a ransom in return. Thus, cybersecurity in logistics sector is also important.
Why Does Your Logistic Company Need Protection From Cyberattacks?
Cybercrimes are on the rise, and companies that acquire the services of cybersecurity providers are safer than the ones ignoring this service. SOCVault provides a 30-day free trial of availing our renowned SOC as a service. Logistic companies are quite vulnerable to cyber threats. Therefore, SOC as a service suits such companies the best. Cybersecurity in logistics sector needs attention as it can damage the logistics sector and the economy.  
Cybersecurity In Logistics
Owners of logistic companies always focus on maintaining the workflow of the movement of goods from one place or another. Secondly, these business owners also look to supervise the overall process of checking and placement of goods in the warehouses of the manufacturers. Such supervision is possible with the right staff, while cybersecurity requires a quality team, not just a greater number of employees. With logistics companies moving to digital platforms, the risks of cybercrimes in this sector keep rising daily.
Cybersecurity in logistics sector is a major requirement. Imagine a hacker changing locations of delivery addresses through a cyber breach. The drivers, in such cases, will be highly responsible even though it was someone else causing the trouble. Such havoc comes with a price in the shape of a ransom demand for the data so breached.
How Can A Logistics Improve Its Cybersecurity?
There are many conventional ways of securing the network and data systems. However, traditional ways like antivirus are not even helpful anymore for the robust malware of today. Logistic companies require a fully consolidated SOC solution. SOC solutions are being offered free for a month by SOCVault.
Below are the top 4 ways to improve cybersecurity in the logistics sector:
1. Training Of Staff Members
Cyber attackers of today are highly skillful, and they trap the employees of a company very quickly by making basic mistakes. Inviting them for one-click through any malicious link or URL is not a difficult task these days. Therefore, detailed lessons on cybersecurity and the threats involved are necessary for staff members. Not just this, but teaching them how to tackle such threats is also essential.
2. Maintaining Strong Passwords
Creating judgable and easy passwords for company accounts is not wise. Such mistakes can end up being quite heavy for organizations. Therefore, setting up fully encrypted passwords is vital to improving cybersecurity in the logistics sector.
3. Collaborating With The Supply-Chain Partners
A successful collaboration with the partner companies can solve major data breach possibilities. Online shared platforms between the two parties and their security are at stake. The two companies are only a single mistake away from a data breach. Therefore, collaboration with partners regarding security issues is a major requirement. 
4. Hiring Cybersecurity Services
To improve cybersecurity in the logistics sector, a company must avail of the services of cybersecurity providers. Security providers like SOCVault are adamant about securing their clients' critical assets in every possible way by staying in compliance with the rules and regulations of the concerned body.
We offer the best SOC as a service and website hosting security services worldwide including case management, security analytics, intrusion detection, log data analysis, vulnerability detection, configuration assessment, security information & event management, and much more. Cyber-attacks call for immediate actions, and immediate response actions for any data breach are possible with SOCVault's prolific SOC as a service solution. Experience a one-click SOC as a Service solution with our multi-featured dashboard. Get your dashboard services available after 24 hours of subscribing, a service that no other cybersecurity company offers. Our clients stay relaxed with 24/7 monitoring services while we protect their critical assets. SOCVault is offering a "FREE 30-DAYS CYBERSECURITY SUBSCRIPTION" if you want to secure your business, then contact us for registration.