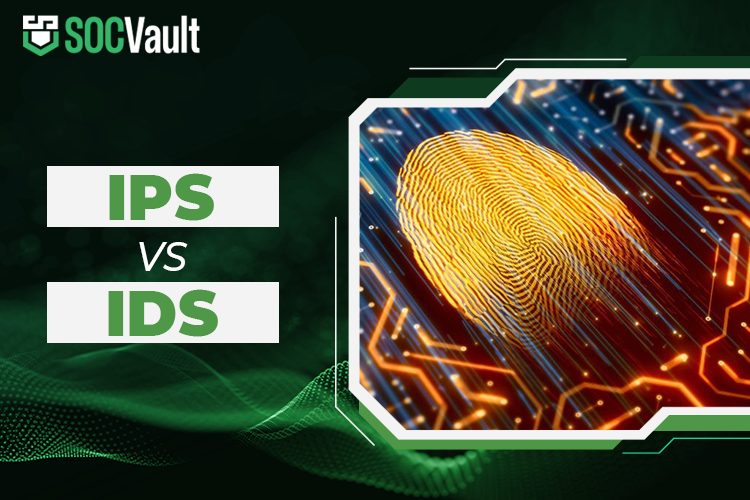 Intrusion Detection VS Intrusion Prevention System
Intrusion detection VS intrusion prevention (IDS VS IPS) is a trendy topic. These two aspects of cybersecurity are interrelated. How are the two aspects interrelated, and their comparison is discussed below in the article.
The Need For Services Like IPS And IDS
 The need for cybersecurity is increasing daily, and many ignorant business owners realize that it is becoming a dire need over time. Globally, we have seen major cyber breaches taking place and causing major organizations to go bankrupt. Furthermore, the year 2020 saw a massive increase in the number of cyber threats and breaches worldwide. Therefore, stopping such activities at the right time is important before it's too late.
A number of companies all around the world are adopting the services of cybersecurity providers. A complete SOC solution helps these companies to grow exponentially without the fear of any data breach. A complete security system is handed to them in the shape of integrated software. A full-proof security system is now in the palm of your hands. Users can also install such software on their smartphones and monitor for future threats.
Difference Between IDS And IPS
The intrusion detection VS intrusion prevention debate seems quite interesting as the two aspects interrelate. Both features play a fantastic part in the game of cybersecurity and make sure the network and data systems are free from any risk. Thus, discussing them separately will help.
Intrusion Detection System
This feature helps in analyzing any malicious activity that takes place in the network or data systems of the users. Techniques enriched with machine learning technology can help the security providers detect the probable threat. Thus, highlighting a threat, a critical element of cybersecurity is possible through the IDS feature. The intrusion detection VS intrusion prevention topic helps us realize the details these two features offer to the cybersecurity world.  
IDS can monitor on a 24/7 basis and provide the users with non-stop visibility. IDS tool does not take action on its own as its only aim is to detect the problem and forward it to the user. In the debate of intrusion detection VS intrusion prevention systems, IDS is a feature that depends on human activities to take action. Its task is only to highlight the entry of any malicious data into the critical assets of the possible victims.
Intrusion Prevention System
Compared to IDS, an intrusion prevention system makes sure to prevent the security systems with the best care. Another feature of IPS is that it relies on artificial intelligence as well. The IDS will highlight any probable threat, while IPS can take action and proceed accordingly. This system accepts or rejects packets based on the ruleset. After pointing out the possible threats through IDS, the intrusion prevention system comes into play. It acts accordingly depending on the type of detection.
Intrusion detection VS intrusion prevention comparison lets us know the fundamental difference between the two and how effective these two features are for a business.
We offer the best cybersecurity services worldwide including website hosting security, case management, security analytics, intrusion detection, log data analysis, vulnerability detection, configuration assessment, security information & event management, and much more. Cyber-attacks call for immediate actions, and immediate response actions for any data breach are possible with SOCVault's prolific SOC as a service solution. Experience a one-click SOC as a Service solution with our multi-featured dashboard. Get your dashboard services available after 24 hours of subscribing, a service that no other cybersecurity company offers. Our clients stay relaxed with 24/7 monitoring services while we protect their critical assets. SOCVault is offering a "FREE 30-DAYS CYBERSECURITY SUBSCRIPTION" if you want to secure your business, then contact us for registration.